Vidéos
Ideal to make a tasty gift to a lover of sweets by composing according to your desires a palette of organic honeys. Our wooden boxes are handcrafted by an association in Lozère. The forests from which the wood is produced are managed sustainably (PEFC label)

Published by Miellerie de Sallefermouze sur mercredi 7 décembre 2016
Ideal to make a tasty gift to a lover of sweets by composing according to your desires a palette of organic honeys. Our
wooden boxes
are handcrafted by an association in Lozère. The forests from which the wood is produced are managed sustainably (PEFC label)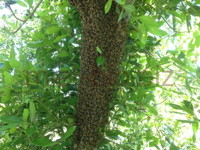 Dans ce petit film, nous verrez comment nous avons adopté un essaim naturel qui s'était posé sur un arbre.
---
In this short video, we see how we have adopted a natural swarm that landed on a tree.
---
In the late spring, The French television, France 3 did a story on the Joyeuse market, in Ardèche (south of France). They followed a chef named Bernard, one of our customers ...